Sydney Opera House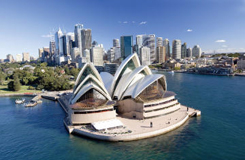 Sydney Opera House
© Sydney Online Pty Ltd
The Sydney Opera House, situated on Sydney Harbour at Bennelong Point, is considered by many to be one of the wonders of the modern world.
Designed by Jørn Utzon and constructed under some controversy, it was opened in October 1973.
The Opera House is one of Sydney's most popular icons with tourists and travellers from the world over visiting, photographing and standing in awe of the cultural centre of Sydney.
The Opera House is the home to the:
Performances by the various companies are being conducted all the time at the Opera House. To book performances of the Opera, Ballet and/or Symphony Orchestra.
Choose from a one or two hour tour that take in the extraordinary history, breathtaking architecture and the unseen workings of the Opera House and its daily life or take you behind-the-scenes to stand on stage in the world-famous Concert Hall or Opera Theatre among other exclusive opportunities and to enjoy a light breakfast in the Green Room. For details on the tours and to book click here.
For information on upcoming performances and to book online.
To fit our relaxed and laid back lifestyle, minimum dress standards are neat casual.
How to get there
Getting to the Sydney Opera is easy as it's located right on the water and surrounded by many of the main attractions of Sydney. It's located right on the water on Sydney Cove.
Access to the Opera House is included in the purchase of a See Sydney and Beyond Smartvisit Card