Hotel Views of New Year's Eve Fireworks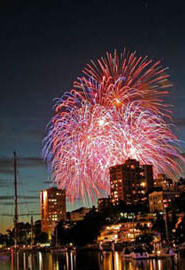 Fireworks Over Sydney Harbour Bridge
There are a number of hotels situated close to the harbour with rooms that enable guests to view the Sydney Harbour Bridge lit up with fireworks on New Year's Eve. The hotels listed below have rooms that provide bridge views, but you need to indicate your preference for a bridge view when making a booking.
Book your hotel through Sydney Online and get:
A Competitive Price;
To Pay at the Hotel; and,
Incur No Booking Fees.
Unfortunately, all hotels listed below are booked out for New Year's Eve 2015, and have been for some time. It's most likely that all hotels that offer a bridge or harbour view, and which are not listed here, are also booked out due to the popularity of the event. If you wish to experience the excitement of the harbour fireworks display, it would be advisable to book now for New Year's Eve 2016.
If you are looking for somewhere to other than a hotel window or balcony to view the Fireworks on New Year's Eve then there are many locations, not all are necessarily close to the Sydney Harbour Bridge but offer excellent vistas.
Some places provide a party atmosphere with entertainment while you wait. Try one of these Vantage Points from which to view the Fireworks. But remember, don't leave it till the last moment because all locations fill fast.